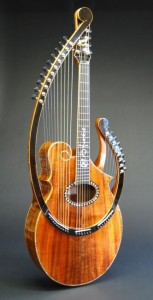 The Lyra harp guitar is inspired by William Eaton who built the original Lyraharp Guitar.
This version was designed in close collaboration with Echo Greywolf, the musician who now owns and plays it.
The Harp Guitar is played like a standard guitar, the harp guitarist can pluck the harp strings or let them ring along with the melody strings adding depth to the overall sound.