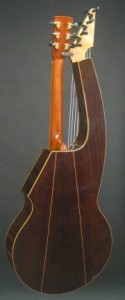 The 21 string hollow arm harp guitar is the most logical layout for getting the most notes easily accessible on a harp guitar. This harp guitar is influenced heavily by the John Doan harp guitar which was designed and built by Jeffery Elliot and John Sullivan.
The top is Sitka spruce, back and sides are Indian rosewood. The neck is made from mahogany with an ebony fingerboard and bridge. The body is bound in curly maple and paua abalone and finished in lacquer.
There are a total of 21 strings, 7 sub-bass, 6 melody, 8 super trebles. In this case they are tuned (low to high) EFGABCD EADGBE efgabcde for a total of 5 octaves. The sub-basses are wound nylon, the melody strings are phos bronze and the super trebles are steel.
If you are interested in commisioning a custom harp guitar please let me know and we can discuss tunings, woods, inlay. etc. Every one is unique and built to custom order. If you would like more information feel free to contact me at Jim@WorlandGuitars.com