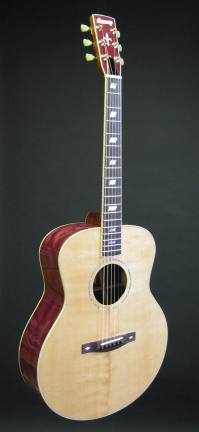 There have been many variations of the Gibson Jumbo and Small Jumbo built over the years, often called a concert jumbo or a grand auditorium or SJ.
My version of the Jumbo has the same basic dimensions as a dreadnought but with a rounder shape that makes it more comfortable to hold. The round lower bout makes it much easier to get your arm around making it feel like a smaller guitar.
The deep body provides ample volume while my internal bracing structure insures a well balanced bass to treble response and clear note seperation.
I can build the Jumbo to suit your playing style whether you play fingerstyle, flat pick, or play some combination of the two.
Available plain or dressed up, it is available in any combination of woods, inlay and trim. The nut width can be customized to your preference and the action can be set up to suit your playing style. If you would like more information feel free to email or call me.