Worland Guitars
Classic steel Guitar.
---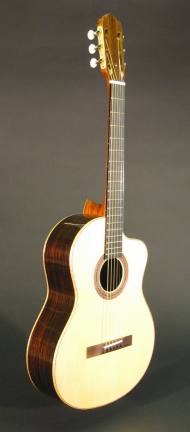 This is an example of a steel string guitar styled in the classical Spanish style. It uses light gauge steel strings but has the look and feel of a classical. Perfect for a classical player who is looking for a steel string sound in a familiar feeling guitar. Some comments from the customer:
Aloha Jim--

My classical steel guitar arrived late Wednesday evening. In hope it showed well for you at Healdsburg. As with the guitars you built for me earlier, I am very pleased with this one. Thanks for selecting a stiff Englemann top. With the rosewood back/sides, this guitar has the sound I had been hoping for. The wide neck feels very comfortable and the guitar is a visual gem -- love that traditional classical look. I'm sure going to have fun with this one.

I could well have spent an eternity in local guitar shops and not have found any of the custom beauties that you built for me. If I'm looking for a particular "voice", I now have it within arms reach. A few years ago, I would never have imagined my new-found fortune. I feel a little guilty in this regard, but I know that any one of my Worland guitars will bring much joy to others many generations from now. It's been a pleasure collaborating with you over the course of my four custom guitars and I certainly learned a lot in the process. To anyone looking for a unique combination of features or qualities in a guitar, whether it be tonewood combination, sound or dimensions, I wouldn't hesitate to recommend a custom builder like yourself. Again, thank you very much for your masterful works and I wish you continued success in your luthierie endeavors. Take care.

Aloha/craig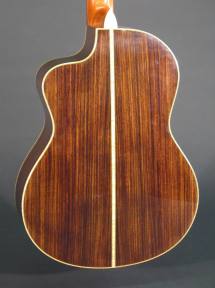 Indian rosewood back and sides.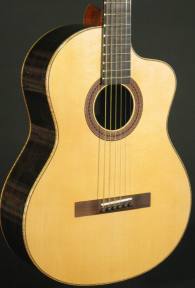 Englemann spruce top with curly maple binding and tradtional Spanish rosette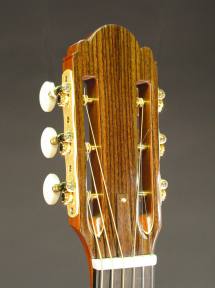 Traditional classical headstock with steel strings tuners

Worland Guitars - 810 North First Street - Rockford, IL 61107 - 815.961.8854