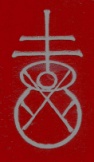 Worland Custom Guitars
The Good Shepherd Guitar
---
The Good Shepherd Guitar. A highly decorated instrument specially designed and created for Christian musician Marv Plank of the Kindered Spirit Band.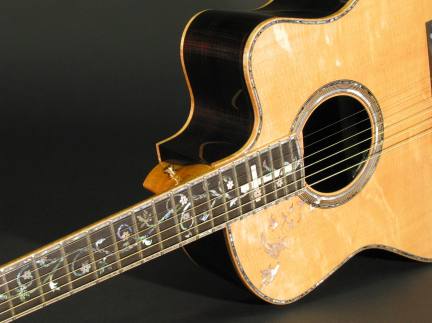 The fingerboard, headstock and back inlay was hand cut, inlaid and engraved by inlay artist Landon Wiedenman of Wiedenman Custom Inlay.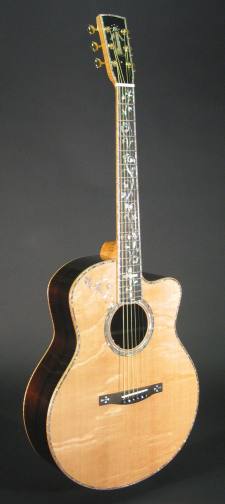 Based on the Jumbo shape, the Good Shepherd guitar features inlay on the top, back, fingerboard, headstock and bridge. Over 200 individually hand cut pieces of shell, wood and ivory decorate this guitar. All natural materials were carefully selected to achieve the perfect colors. Final shading was achieved with stippled engraving.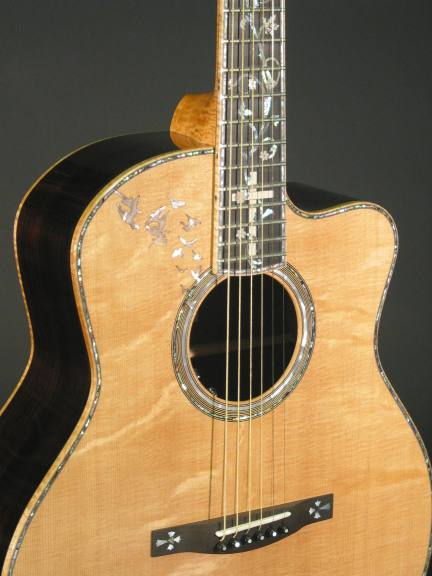 The top is made from bearclaw Sitka spruce, a remarkably stiff and resonant tonewood.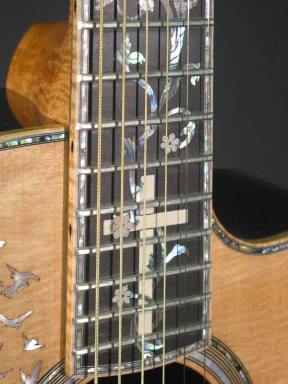 The fingerboard features a cross inlaid from fossilized ivory.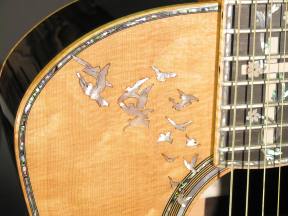 Mother of pearl doves inlaid into the top take flight from the soundhole.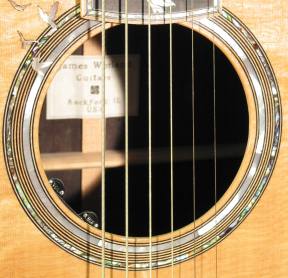 A closer look at the rosette comprised of mother of pearl, abalone and strips of rosewood and maple.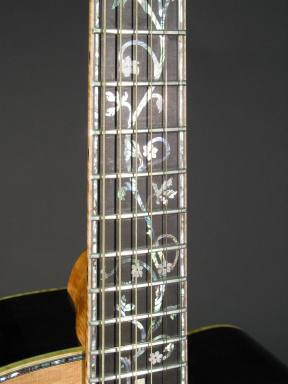 The fingerboard is lavishly decorated with an abalone vine with pink flowers and is bound with abalone trim. The flowers and vines are based on Crown Anemones, which bloom in Israel around the easter season.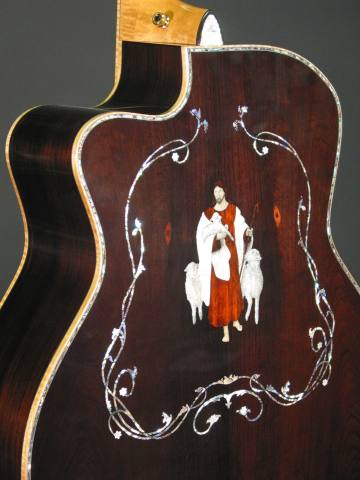 The back and sides are Brazilian rosewood inlaid with an abalone vine with ten white flowers representing the ten commandments. In the center is Christ the Sheppard.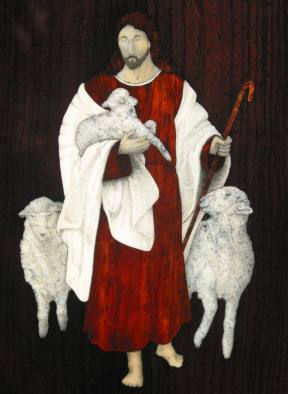 A closer look at the back inlay. The sheep are inlaid from fossilized walrus ivory and the skin from mammoth ivory. His cloak is padauk. The engraving is painstakingly hand stippled to give the inlay a painting-like quality.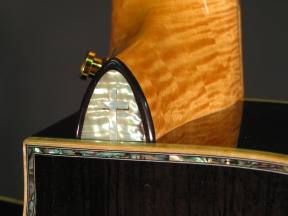 An abalone heel cap with a mother of pearl cross is surrounded by a rim of Brazilian rosewood.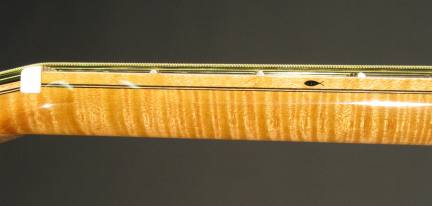 The curly maple neck is bound in maple and decorated by fish side markers.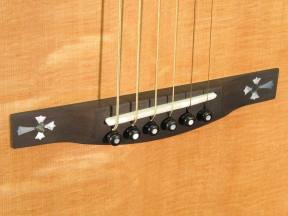 On the bridge are inlaid two crosses in mother of pearl with abalone hearts.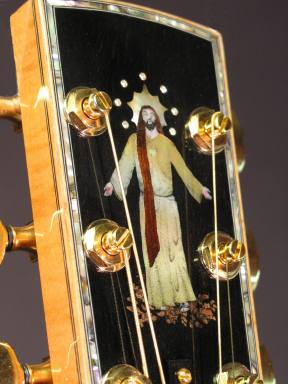 The peghead features another rendering of Christ hand cut from shell and inlaid into an ebony field bordered with abalone shell.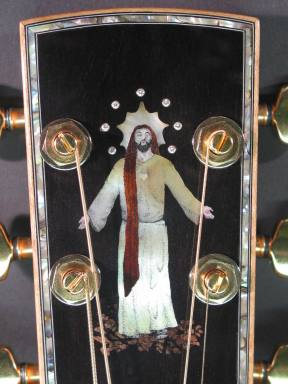 Seven diamonds surround the halo of Christ.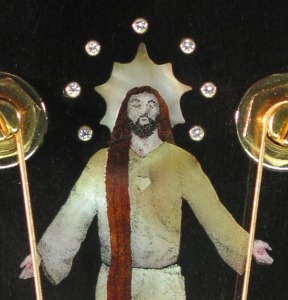 If you look closely you can see blood on His hands and the heart in His chest.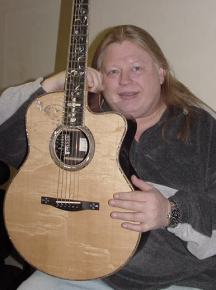 I am proud to endorse Jim Worland Guitars. From the first minute I opened the case I was speechless. This is the most amazing guitar I have ever seen. The attention to detail and the craftsmanship is Old World Standards. Jim is a builder with Old World values. Honesty, integrity, and a pure passion for his work, Jim has crafted the finest guitar I have ever seen or played. The neck fits me perfectly. The action is outstanding. This combination makes this guitar a pure pleasure to play. Then the sound. It is nothing short of incredible. Unplugged it just rings with clear shimmering highs, powerful mids, and the underlying bass response is fantastic. It sounds beautiful when fingerpicking. Again very responsive to every little nuance and dynamic my fingers do. The harmonics are easy to hit and ring out loud and clear. When playing with a pick it is again, nothing short of amazing. Incredible response to the pick's attack. It goes from an explosive bark that just rings out with a clarity I have never heard before. Then to tones and dynamics of a clear running mountain stream. Then I plugged it in and we had our first practice. My bassplayer and singer both said the same thing. "It is magic". I run a fairly complicated sytem where I split the guitar's signal. One signal is ran thru just a parametric EQ and then straight into the board. The other is running thru several pedals then to an Marshall Acoustic amp and then to the board. So I am running thru 2 channels of the board all the time. The straight clean signal is every bit as good as the acoustic voice. Every little sound is there completely. There is nothing I can hear that would improve it. It picks up the dynamics of what and how I play better than anything I have ever played. The other signal is equally impressive. The chorus, delay, reverb all sound beautiful. The real test was the distortion pedal. Man, it plain rocks. With the 2 channels working together this guitar sounds huge. One other thing all the other members of my band said was this guitar makes us play and sing better. It just makes you step up to a whole other level. I have to say I agree with them. It has the same affect on me.
I have to say working with Jim was a complete pleasure. This is a man that actually cares about what you want from your guitar. He is not just there to make a buck. He is there to make what you hear in your head and your heart become a reality with no compromising. He actually listens to what you ask for and then does it better than you thought it could be done. I have played/owned Taylors, Warrior, a 59 Martin D-28, and an assortment of other guitars. None of them hold a candle to the guitar Jim has produced.
-Marvin Plank, Kindered Spirit Band, Dec 2005

Worland Guitars - 810 North First Street - Rockford, IL 61107 - 815.961.8854