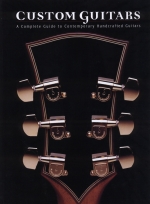 Custom Guitars
A Complete Guide to Contemporary Handcrafted Guitars
Researched and created by the editors of Acoustic Guitar magazine, Custom Guitars contains more than 200 exquisite color plates of handmade instruments, as well as up-to-date biographies of the designers and builders. It covers the spectrum of instrument design and construction, including archtops, steel-string flattops, nylon-strings, resonators, Hawaiians, and specialty guitars.
Custom Guitars, $39.95
To order a copy of Custom Guitars from the Acoustic Guitar web site click here.

Worland parlor guitar with vintage style inlays as featured in Custom Guitars.